Custom Poster Frames. Picture Frames. Sign Holders. Shadow Boxes, Floor Stands, Lightboxes, Letter Boards, Bulletin Boards and More. DisplayFrames.com, through our USA design and production facility, has developed frame and display solutions for tens of thousands of customers in all industries and Government Agencies. Our designers are ready to take on your project with custom frame and displays for your unique and specific requirements. Call us for your next project.


Our Design Team
Whether your facility is small, mid-size, large with multiple locations, a new building or a retrofit, our design team will work with you to design and produce the perfect display frame solution tailored to your interior space, office or facility's décor and budget. With decades of experience and thousands of projects under our collective belts, designers in collaboration with our production and shipping teams know how to get it done and delivered.
A New Level of Custom Frame Design
25 years after our founding, and with the digital transformation we're all experiencing, it was time to take a fresh look at the way we interact with our customers. Many buyers have a good idea of what they are looking for and want to be involved with the design process. As a result, Access Display Group, Inc. has created this website Displayframe.com that features our new Online Customizer to create a more interactive and engaging user experience for designers, architects, businesses, organizations, institutions --- buyers in all industries, as well as for home and office, Whatever the application, we offer the design tools that includes hundreds of metal and wood custom frame profiles, and other materials for designing the perfect display for your interior project goals. You design it. We build it.
More Frames, More Display Frame Solutions
Not all projects are alike. Different sizes, styles, budgets, wall & floor space, environments, materials, quantities, timeline plus other materials and factors determine what's best for your display frame requirements. Explore the four types of frames to that are ideal to meet an array of applications. Traditional Custom Poster Frames and Picture Frames, that are typically used for permanent wall display, and easy change frames; Snap Open Frames, Top/Side Load Frames. and Swing-Open SwingFrames.
Designing For Your Success
In addition to our standard display frame designs and production capabilities, Our Design Services can provide ideas, develop new product concepts and build prototypes. From the design of a simple display for a small real estate office or restaurant to the design of a large format display system for retail store chains, education facilities to medical centers. Our design specialists are available to implement your display project requirements.
Patented SwingFrame Innovation
Introducing a successful product doesn't happen by accident. The right elements of purpose, design and, functionality as well as manufacturability brings it all together. We designed our "SwingFrame" swing open, changeable display frame solutions to offer unlimited design possibilities. If you're a designer or buyer that requires a wider selection of frame sizes and styles for your interior space or environment as well as being able to quickly update and easily change your frame content at a moment's notice, the SwingFrame display system is worth considering for your next project.
Interior Design Projects Include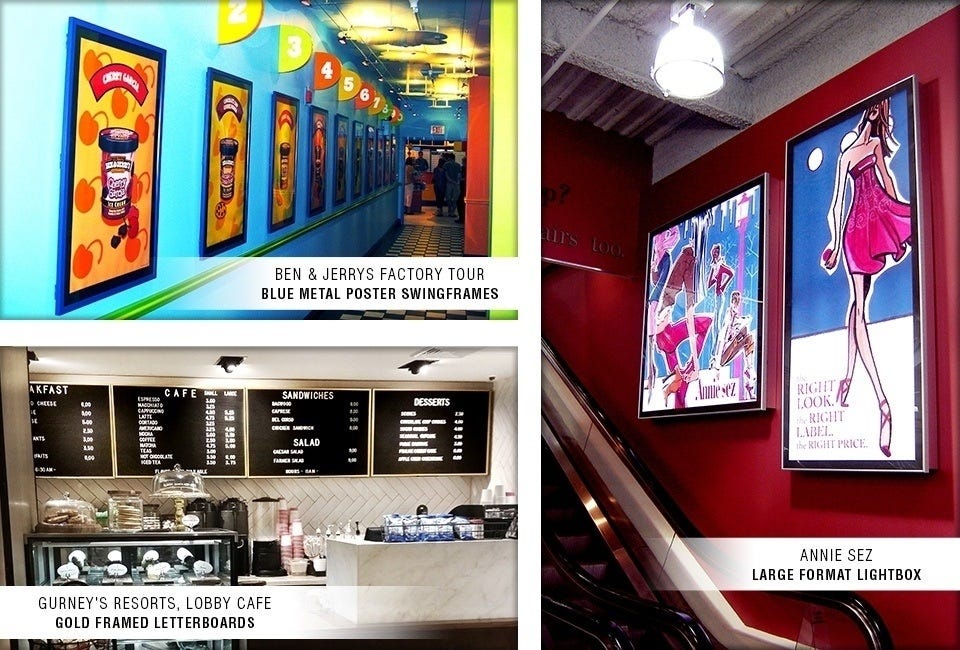 Design Assistance
If your display frame design is outside the scope of our Online Customizer or you need more help, info or formal quote in creating a custom display frame, Call or Email. Our design team has the talent and knowledge to develop ideas that can assist architects, designers, purchasing agents to create displays that meet your expectations and budgets.
Managing Your Project
We're focused on seeing your project through, step by step, from concept, design, and fabrication to final delivery. Designs need to be submitted for approved, schedules need to be arranged, deadlines set, and shipping arranged. Our design team has the experience to assure all aspects of the project are managed and executed professionally.
Interior Design Projects Include
Installation Available
For the most part, wall mounted frames, displays and floor sign holders are easy to assemble and install. As a result, customers can easily handle the job with their in-house personnel. This eliminates the need and cost for outside installers. But if needed for more involved projects such as multiple locations or national rollouts, we can coordinate installations using a reliable network of regional and national professional installation companies.
Compliance
Many of our existing visual display products comply with or can be modified to meet ADA requirements as well as other state and local codes. Prior to manufacturing and/or final assembly, we will closely with you to ensure your display frames be in compliance with these regulations.
Interior Design Projects Include